I am a fan of unique and eccentric designs, especially when it comes to motorcycles. I couldn't help but make a post containing some of the most interesting designs I've come across. They follow in no particular order:
1. Suzuki RE-5 Rotary Engine (1974-1976)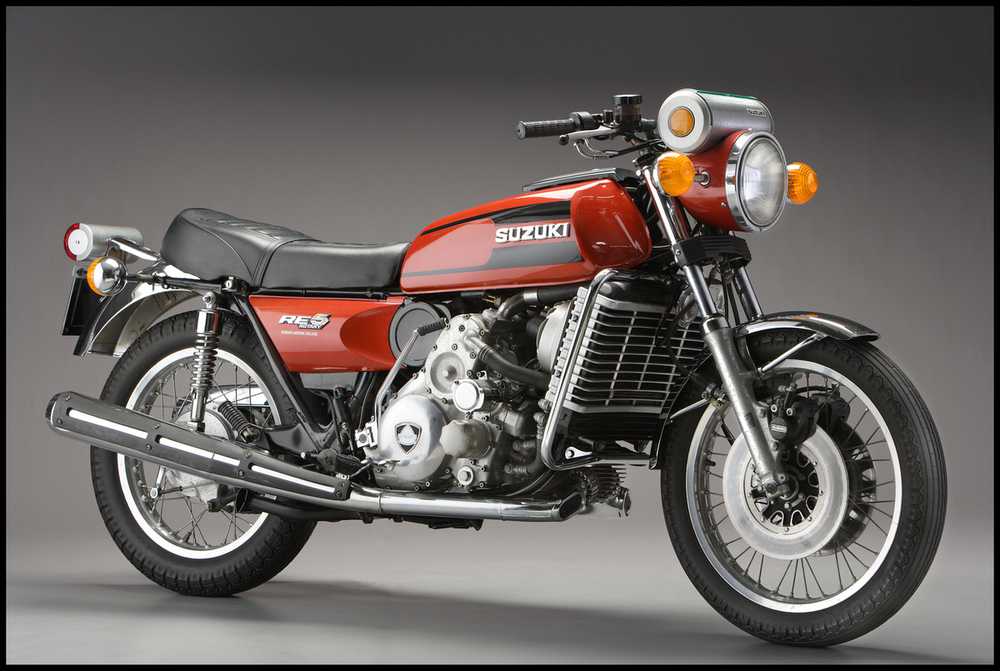 Rotary engines produce high power figures from relatively small displacements. All four major Japanese manufacturers had prototypes or plans. The RE5 was touted as the future of motorcycling. The rotary engine produced a lot of heat which required a number of sub systems such as water and oil cooling and modifications to more typical engine components such as the exhaust pipes. There were three separate oil tanks (sump, gearbox and total loss tank) and two oil pumps (one for normal engine lubrication and cooling and one to supply oil specifically for tip seal lubrication). The RE5 was quite advanced in its steering and overall handling and motorcycle magazines of the day remarked on this.
Who would have thought of adding a swingarm both at the rear and at the front of a motorcycle? The Bimota Tesi 3D is the ultimate hub-steered motorcycle for the technologically and mechanically minded people out there. Tesi is Italian for Thesis, which is fitting as it was Engineer Pierluigi Marconi's thesis at university that directly led to the Bimota Tesi 1D motorcycle in 1990. Some lucky test driver at Motorcycle.com explains it:
"Initially it feels very weird to turn on the road with the Bimota Tesi 3D. Your brain needs a little recalibration as the handlebars feel sluggish and unresponsive at first, but it's really not the case. What happens on that front end is that the arms on bearings interact with each other and the pull-rod Extremetech mono shock at the front. That's right, a mono shock at the front specially designed by Extremetech to Bimota's specifications. So when I push the handlebars to steer left or right there's a hydraulic or really tight steering damper feel to the movements. … Bimota's own experience when they have let racing riders out on the Tesi 3D for the first time is that it takes some adjustments, but as soon as a rider gets used to the new feel they generally prefer the Tesi 3D to a more conventional Bimota DB5. One of the main reasons for this is the consistency, as you soon start getting some incredible feedback from that front end not possible on a conventional front end."
In 1974 Hercules became the first company to offer a Wankel-engined motorcycle for sale to the general public. The W-2000 had a single-rotor air-cooled engine of 294cc that produced 25 bhp, later increased to 27 bhp (20 kW). Engine lubrication was by manually adding oil to the fuel in the tank.
4. (My personal favorite) Killinger and Freund Motorcycle
The Killinger and Freund Motorcycle was an attempt in 1935 by a group of five German engineers from Munich to design a more streamlined and modified version of the GermanMegola front-wheel drive motorcycle. The work took three years to complete but the result was impressive. The motorcycle featured a three cylinder two-stroke engine built right into the front wheel!
I'd be very excited to hear of any other unique motorcycles out there! Let us know what you've seen!